This is test number five, taken this morning: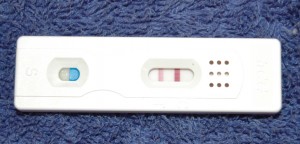 I think we're convinced I'm really pregnant now 🙂
After 4 seemingly positive tests, I finally called my OB-GYN yesterday to make my first appointment. After talking to Lex (who is currently in CA) on Tuesday night, we decided that if the test still came up positive Wednesday morning, I should call. I've had two weird symptoms that we wanted to ask about, the first being the cramps I had last week while we were in Houston. I was convinced they were menstrual cramps and that I was just going to get my period earlier than I had expected. They lasted about 5 days and then subsided. Apparently this isn't actually that unusual. The other symptom was really bizarre looking, to say the least. On Tuesday night I was shocked when I looked in the mirror and saw that my stomach looked like I was about 5 months pregnant. I showed Lex via video chat, and his eyes practically fell out of his head. We were pretty concerned at first – and there was no way we were going to be able to keep Baby Friedman 2 to ourselves for now if I looked like that – but I believe the technical term for the problem is bloating. It seems to have resolved itself.

Share on Facebook