Since I had reached the "magic day" (18 days past ovulation), I took one more text yesterday just to be sure, especially because I've been having some disconcerting cramps.  Well…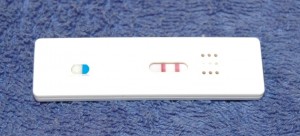 Unlike the tests I had taken previously, on this one the test line showed up before the control line and it was as dark, if not darker.  This is good news; my hCG levels are clearly increasing.  Hopefully the cramps I've been having will turn out to be nothing more than early pregnancy cramps.
In a surprise to no one who knows me, I get so nervous about something going wrong during this stage of pregnancy (Me?  Anxious?  Naw…).  I never thought I would be looking forward to morning sickness or sore breasts, but I'm so eager for a sign of a normal pregnancy!  Aside from the cramps, I've noticed that my back gets sore easily, especially after standing for several minutes, and I've had some very slight nausea here and there.  That's it, though.  Bring it on, baby!  I can take it!

Share on Facebook
Comments Off

on Just in case you weren't convinced…