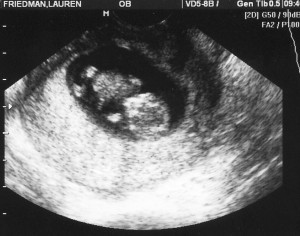 We've been more hesitant blogging about Baby #2 here than we were the first time around, but I'm vowing to change that now. The main reason for me is the health challenges that we're facing with this pregnancy — Lauren's colitis flare-up, the subchorionic hemorrhage, more recently a potential amniotic band. But although these are serious and important health concerns that we have to stay on top of, I'm no longer going to allow them to hamper my excitement and enthusiasm regarding #2!
We've spent the last week or so informing key family members about this pregnancy. First, we told Grandma Esther — but only because we thought she already knew! Grandma had been using Lauren's laptop, and Lauren realized in a panic that she had left some pregnancy-tracking websites open. We used the same method to tell her that we ended up using with Grandpa Marty a few days later:
Lex: Y'know, we've been thinking about that Bahamas trip you had in mind for this December. We don't think we're gonna go.
In-Law: Why not?
Lex: We don't think the baby will be old enough by that point.
In-Law: Old enough for what?! Why not?
Lex: Well, by then, it'll only be one or two weeks old.
Hehehe. Credit goes to Lauren, because that was her idea.
Next we told Great-Grandma Evie, since we wanted to give her some happy news before she went in for her second hip surgery in three months. The funny part there was, after Lauren told her the news (and that Daddy didn't know yet), Ev asked: "So, what are you going to do?" Lauren replied: "Um… Have the baby."
Ev: Oh, so you're going to keep it?
Lauren: Um. Yes?
Ev: Are you going to marry him?
Lauren: Grandma, you know this is Lauren, not Sam, right?
Grandma Evie breathes sigh of relief that actually causes a breeze straight through the telephone line.
In between Esther and Marty, we told my parents (Papa Ducky and Grammy, which sounds more like a Saturday-morning cartoon, but I digress) via video-chat. Anya was wearing her custom-made "I'm going to be a big sister!" shirt. Grammy noticed first, and jaw properly dropped, said "I like Anya's shirt!" to make my Dad spot it too.
Last night, Anya wore the shirt to tell her Aunt Samantha, and today she wore it for Great-Grandma Shirley. G.G., as she prefers to be called, was told to read the shirt, which she did. She thought nothing of it. "Put your glasses on, Mom," Esther suggested. "I can read it!" Shirley said. "It says, 'I'm going to be a big sister.'" Pause. "WHAT?!?!??!?!!!?!"
Today, we have four more siblings to notify!

Share on Facebook
Comments Off

on How we told