Today I hit 32 weeks! Everything is going well, pregnancy-wise. I'm pretty big – I had a scan last week and was told that I have a good amount of amniotic fluid, which may account for my size.
Where's the belly?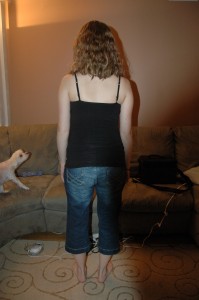 There it is!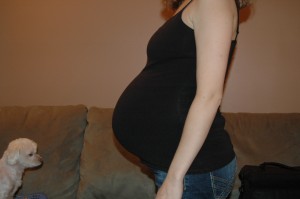 The baby is head down but must be sitting high up still since I'm still sleeping through the night without needing to go to the bathroom. It's getting harder to move easily, though!
We had a consult with the new OB-GYN practice last week.  We weren't impressed by the long wait (there was an emergency with another patient) or the decor (they share office space with an odd, religious fanatic dermatologist), BUT once we met the doctor I immediately felt comfortable.  She was very open and honest with us about their philosophies about c-sections and the risks involved with a VBAC (but unlike my other doctor she gave me accurate numbers).  This practice serves a big community of orthodox Jewish women, many of whom intend to have several children, and, as the doctor explained, the human body just cannot handle ten c-sections.  That's one of the many reasons why they work as hard as they can to make sure they don't perform c-section unless absolutely medically indicated.  The doctor we met with has a c-section rate of 9%, which is absolutely phenomenal.  I'm not sure what the head doctor in the practice's rate is, but I'm sure it is similar, as he is the one who owns the group and is the doctor I was referred to in the first place.  The doctor did a quick scan to check on the baby (the heart rate was 155 bpm), had me get on the scale, and got a urine sample.  Everything was great and we are definitely switching practices; I have my next appointment on the 20th.  I will also deliver at Monmouth Medical center instead of CentraState, which is a good thing, given the c-section rates at each hospital.  Lex and I have a tour of the maternity ward scheduled for November 2nd.  We also decided to hire a doula to assist with the birth after all – more on that in a different post.  None of this guarantees that I will have a successful VBAC, but I'm feeling more confident that if I do have another c-section, it won't be because my doctor didn't want to be up all night!
The day after my appointment, I went to my previous doctors' office to obtain my records.  I filled out the form to give my written consent and was told I would get them within the 30 days they legally had to fulfill my request.  This morning I received a call that the records were ready to be picked up and, by the way, I knew about the charge for having my records copied if I was leaving the practice, right?  A DOLLAR per page, for a grand total of 71 DOLLARS!  I was fuming when I was told this, but apparently they have the legal right to charge me up to 25 cents per page and a "reasonable" clerical fee.  Is $53.25 a reasonable fee to copy a file?  I'm not convinced, but I needed those records so I paid the fee anyway, making sure to express politely my displeasure at not being told about the fee ahead of time.  The receptionist gave me a "break" and said, "Just give me $70 even."  How generous of her!  Lex wants me to file a complaint with the US Department of Health and Human services, and I will, but I need to wait because I looked through my records tonight and found that they were incomplete!  They didn't include the charts of my weight gain or blood pressure from either pregnancy or doctor's notes from my appointments.  I don't care about the notes as much but I think the other information is important.  I want to take care of that before I file the complaint.  I don't understand what possible reason they could have for leaving those pieces of information out.  I'm not an expert on HIPAA, but it was my understanding that as the patient I have the right to have access to my entire file.  I did ask for a complete copy of my records, so I would think that would include everything.  Grrrr.  This only convinces me further that I have made the right decision to switch practices.  I am so annoyed about this.

Share on Facebook