Sierra Claire turned 10 months old on October 6th! Â The scale reported she weighs approximately 19 lbs, so it's probably a little more. Â We transitioned her to 9-12 months clothes recently. Â They're a little big, but she needed winter clothes and it didn't make sense to buy her new clothes in a 9 months size. Â The tooth count is still four. Â Number 5 and 6 have been visible under her gums for eons. Â What are they waiting for?
This was a big month for Sierra! Â She mastered crawling at around 9 1/2 months old and is now unstoppable. Â Nothing gives her more pleasure than to escape the room, especially if she thinks someone is chasing her. Â She's such a little imp, and finds trouble wherever she can. Â Even though she still doesn't put too many toys in her mouth, somehow she manages to find and try to eat every speck of dirt that is invisible to everyone else. Â She also likes to "walk" while someone holds her hands. Â Like many other new skills, Sierra pulled up to standing one day and then didn't do it again for weeks. Â She finally pulled up again earlier this week. Â For some reason, outside the tub is the only place she can do it for now.
Our happy little imp: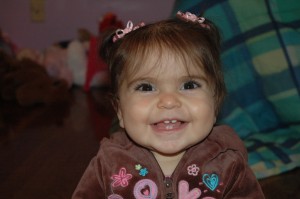 Sierra's communication skills have really started to explode. Â She has three definite words – Dada, all done, and her newest, doggie (sounds like dawdie) – and a whole bunch of others that she may or may not be saying or at least repeating; it's so hard to tell for sure at this stage. Â Now she babbles "mamama" a whole lot more, and sometimes it seems like she says it specifically to call me. Â She signs more, eat, all done, and milk really well, and tries to sign apple, daddy, mommy, play, water… I'm sure I'm forgetting some. Â Sierra points to things that capture her attention, and can show you where the animal picture and frog decals are in her room. Â She also identifies her head by patting it, and is working on locating her tongue, belly, and toes. Â She now claps and raises her hands for hooray when we sing, "If You're Happy and You Know It" and sometimes makes an "Itsy Bitsy Spider." Â Music makes her so happy. Â She loves to dance!
One other cool thing from this month – Sierra has started to figure out what certain objects are for and how to imitate using them. Â If you hand her her shoes, she tries to put them on her feet. Â She will bring a comb or her bow up to her hair. Â I showed her how to use a toy spoon and bowl to "feed" a baby doll, and now she does the same. Â Hand her a phone, and she'll "chat" away.
Here are some videos from the past month:
"Quacking" like a duck, making funny noises, and "So big!" again:
Early crawling, tearing up the play mat, eating, enjoying the escape:

Share on Facebook
Comments Off

on Sierra is 10 months old!