Sierra is doing so many new things these days; I'm afraid if I wait until her 18 month birthday update, I'll forget about them, so here they are, in no particular order:
~Sierra is really talking up a storm and a half, saying tons of short phrases, including:
Here it is
I like it
I don't know
Here you go
Come with me
I love you
Read it
Hear it
That's okay
Fall down
I did it
Carry/hold me (sometimes she says "Carry you")
Excuse me (after a fart or burp)
Achoo, bless you (after a sneeze)
Other side (when nursing)
Put it away
Also, she's started combining "Hi" with various names all on her own! Â I love when I walk into a room and she greets me with, "Hi, Mommy!" Â She made me laugh last Wednesday morning, despite the painfully early hour, because she was looking at a lift-the-flap book in our bed and said to a picture of a dog, "Hi, doggy!"
~Sierra loves to sing and knows the key words to many of her favorite songs. Â My current favorite is "Baa, Baa, Black Sheep" – she gets the tune perfectly but only sings "Baa baa baa baa" for all of the words. Â She refuses to sing it if I try to catch her on video (I'll ask her and she'll squeal, "NO!"), but I'm still working on it.
~Following in her sister's footsteps, Sierra loves books, loves to be read to, and loves to "read" herself. Â She has many books that she asks for by name (or by shoving them in my face and shouting "Read it!" while backing herself into my lap). Â It's cute when she sits by herself and calls out the key words.
She does understand that letters and words are related to reading. Â When she picks up something with words on it, she'll point to the words and say, "Eee eeee eeee eeee" as if she's reading. Â More recently she's decided that everything says "hi" or "baby" – but doesn't it look impressive in this video?
~Sierra likes to count, too. Â She gets the difference between having one and two of something, and now if I say to her, "One, two…" she'll supply the "three."
~We're continuing with very laid back potty training, just following her lead. Â Sierra very frequently forces me to get out of bed in the morning because she insists that she has to go to the bathroom, and indeed she does. Â She'll ask sometimes throughout the day, too. Â Last week there was one day she went from 9 am until nap time without using her diaper! Â She is not particularly interested in pooping on the toilet yet, but no rush.
~Miss Independent goes up and down the stairs completely by herself, albeit slowly at times. Â She gets distracted by things like the flowers on the carpet runner or what Anya is doing.
~Sierra can be such a girly girl. Â She just LOVES babies and princesses. Â The babies can be real, dolls, in books, it doesn't matter. Â They all make her happy. Â As for princesses, she has a sweatshirt with Ariel, Cinderella, and Sleeping Beauty on it that she adores, and she thinks it's so much fun to wear Anya's princess dress up clothes. Â She'll shriek, "Pincess, pincess!" while handing me one of the shirts or skirts and she'll insist, "Wear it!" until I put it on her. Â Then she looks in the mirror and tells me, "Pretty."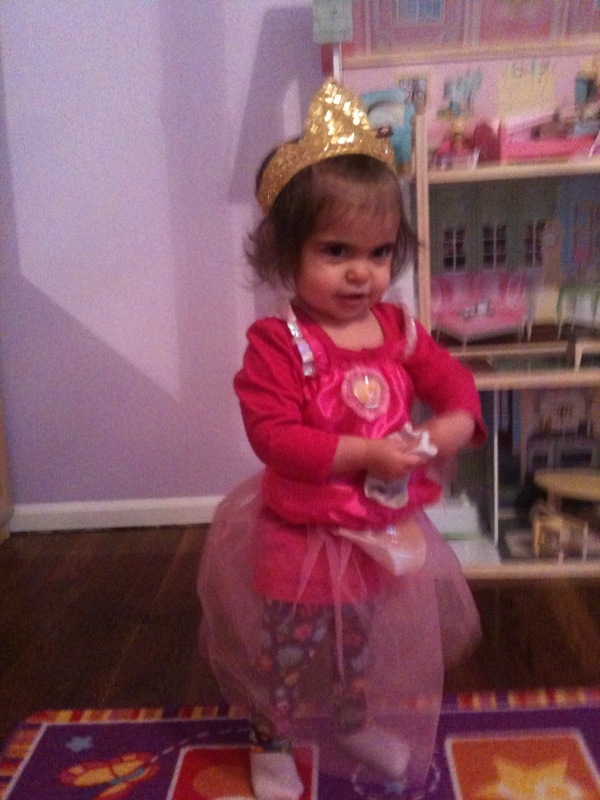 ~When she's not being a princess or a mommy-in-training, Sierra wants nothing more than to go outside. Â She walks over to the door and begs, "Outside! Â Outside! OUTSIDE!" or will get her shoes and try to put them on. Â We go on walks/birdie hunts ("Hi birdie!!!") or play on the swing set. Â She loves to "sfing" and this weekend learned how to climb up the ladder to the big slide. Â I'm in trouble now!

Share on Facebook
Comments Off

on My sweet, smart little (big) girl