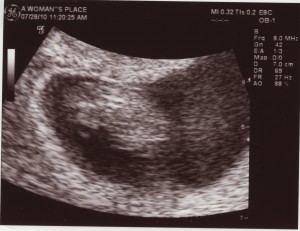 We're a quarter of the way there already, and I can't say I'm sad it's going somewhat quickly. Â This first trimester seems considerably more rough than it was when I was pregnant with Anya and Sierra. Â I'm nauseous from morning to bedtime and unbelievably tired. Â I'm having major aversions to pretty much all food. Â This is the first time I've had a summer first trimester, and I don't think this crazy heat has been helping much.
I've had two appointments with the doctor so far. Â The first was unplanned – I started having some increasing pain on my right side the day before I hit 7 weeks and they had me come in to be checked, but thankfully the scan showed that everything was fine and the working theory is that the pain is being caused by pressure on scar tissue from my appendectomy. Â My next appointment was my first "official" prenatal appointment with a full exam. Â Everything looks wonderful (see above scan). Â The baby has a strong heartbeat and was already measuring a full week ahead. Â No weight gain for me yet.
We told our parents the good news, but are still waiting a few more weeks to tell the rest of our family and our friends. Â We also told Anya and Sierra. Â Anya understands and is very excited, although she is convinced that we are having a boy because she "already has a sister" and therefore we MUST be giving her a brother this time. Â Sierra will tell you there's a baby in my belly (and she likes to give it kisses, but she was already obsessed with giving my belly button kisses) and that she's going to be a big sister, but does she understand? Â Not so much.

Share on Facebook