Um, yeah… Â I'm a total slacker blogging mom. Â Sierra's changed so much in the last two months, it's almost like she's a completely different person from the kid she was in June. Â I had lots of video clips that I meant to post, but they're all kind of out of date at this point. Â Rather than detail what Sierra was like at 18 months, I'll mostly try to recap some of what's been going on since June 6th.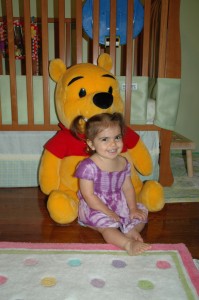 Let's start with her 18 month well check and stats – at her appointment, she was 21 lbs, 5 oz (10th percentile) and 31 inches (25th percentile). Â That's TINY for a child of mine. Â Even yesterday, she only weighed in at 22.2 lb on our bathroom scale. Â How'd that 8 lb, 7 oz baby turn into such a peanut? Â Though she doesn't always eat a huge amount in any one sitting, she definitely has a good appetite – like when she starts shrieking that she wants lunch at 10 am. Â The doctor pronounced her healthy and fabulous, and again commented that her verbal skills are quite advanced. Â She got two shots, in her arms rather than in her legs at my request, since in the past the shots haven't bothered her as much when given in the arms. Â She didn't even notice the first one – she was way too distracted by getting a bandaid ("Sticker!!!") – and she cried for maybe 5 seconds after the next one, stopping as soon as she got another Band-Aid ("TWO stickers!!!").
Shortly after Sierra turned 18 months old, she started really combining words, and now she gives us everything from single words to short phrases ("Baby fall down") to complete sentences ("Mommy, where did Daddy go?" or "I have a dolly. Â Look, Mom!"). The first completely spontaneous sentence that I noticed her saying was "Mommy, I like peppers!" Â She also sings whole songs, often at hilariously loud volumes. Â Some of her favorites are:
The Alphabet Song
Twinkle, Twinkle Little Star
Where is Thumbkin?
Happy Birthday
Rain, Rain, Go Away
The theme song from the show "Weeds" (not that we let her watch that!)
Her articulation has improved greatly, though Lex and I can certainly understand her better than someone who doesn't know her would. Â Much like her big sister, she is pretty shy around people she doesn't know too well and will clam up. Â She's learning how to count – currently she's got "One, two, three, ten, eleven, twelve, thirteen" down pat – and she can identify several shapes. Â Though she can't consistently identify colors yet, she can match them like a pro, especially with her Melissa and Doug fish puzzle. Â Puzzles are a big thing for her, actually. Â She adores them! Â She also greatly enjoys the Biscuit books, Dora and Diego (and has a few Spanish phrases in her everyday vocabulary, courtesy of those two), and all baby dolls.
Sierra's love for Anya has grown to near idol worship. Â As soon as she hears Anya make any noise in the morning, she begins shouting, "Anya wake up! Â Play in Anya room!" Â She always wants to share with her big sister, too. Â She has these two baby dolls that she likes to take with her when we go out, but she has to take both of them and not just one, because she needs "ONE FOR ANYA!" Â She's always going over to give her hugs and kisses, especially if Anya gets upset or hurts herself. Â They play together very nicely for the most part, too, and anything Anya does, Sierra wants to do, too.
What else? Â Let's see. Â We are continuing to work on potty training. Â Sierra loves to pee both on the toilet and in her diaper equally, but she knows what she's supposed to do, and will gladly tell anyone else who goes to the toilet that they are a big girl. Â She had been resistant to pooping on the toilet for several weeks after having had some success, but in the last few days she's been doing a much better job – and she loves getting hand stamps and stickers as a reward. Â As for sleeping, Sierra is doing beautifully. Â After a short bedtime routine, she goes in the crib awake and often puts herself to sleep by singing or talking herself. Â Our only big complaint is that we wish she would sleep later . Â We can deal with the 6 am wake up call, but when it gets closer to 5 am, it's rough. Â Sierra is still a little imp – climbing on whatever she can, standing on stools and shouting "One, two, three, jump!" (but she doesn't jump, thankfully), sneaking up to the landing on the stairs and taunting me with, "Mommy… Up so high!" – but she's also a total sweetheart, showering us with unprompted hugs, kisses, I love yous, pleases, thank yous, and excuse mes all the time. Â I've said this before, but I'll say it again anyway: Â I think we'll keep her.

Share on Facebook
Comments Off

on Didn't Sierra turn 18 months…like TWO MONTHS AGO?