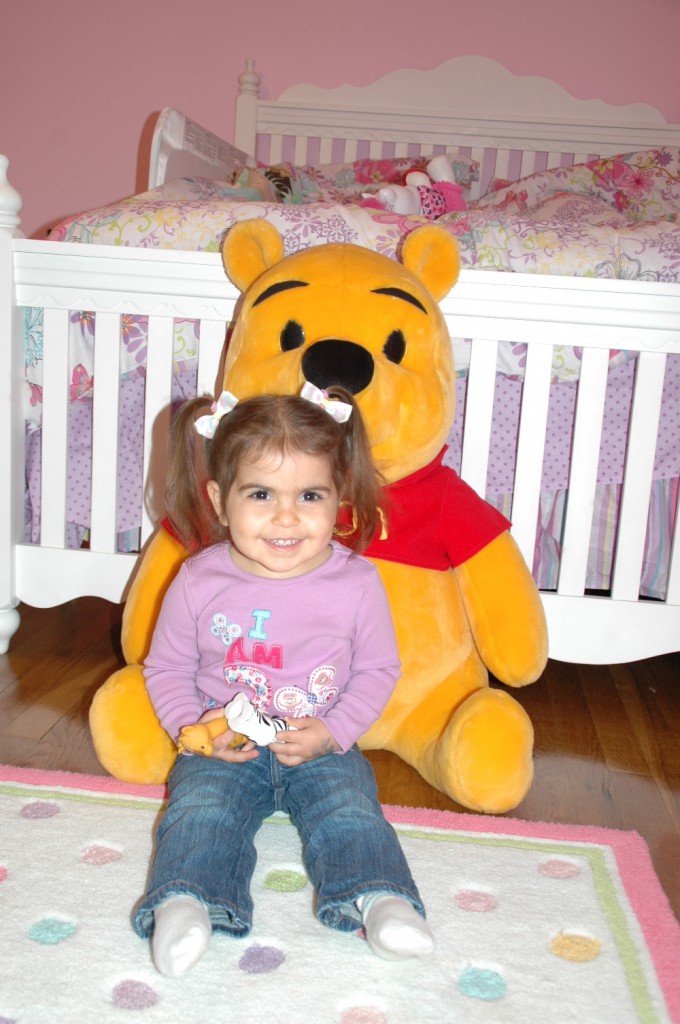 Sweet Sierra Claire turned 2 years old on December 6, 2010.  We celebrated her birthday with an Elmo-themed party at our house, complete with a visit from a 6'2″ Elmo himself (Does anyone know where Lex was during that time?  Hmmmm).  We continued celebrating with a family dinner at Friendly's and a little party at her class at Anya's school.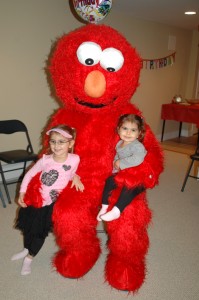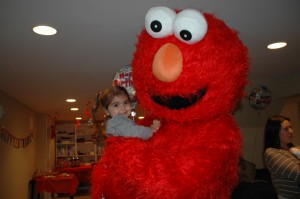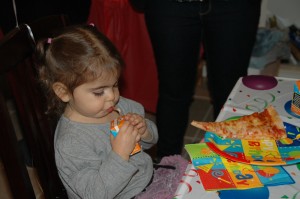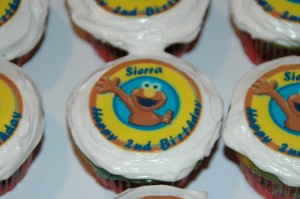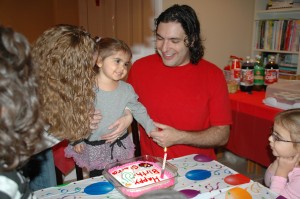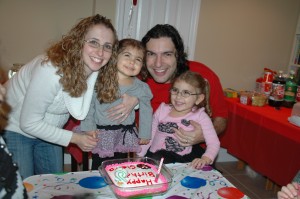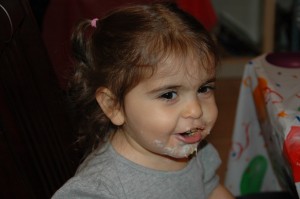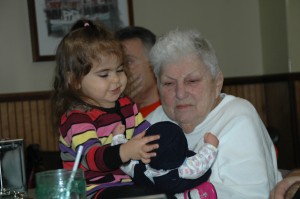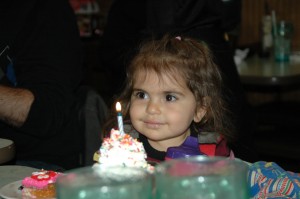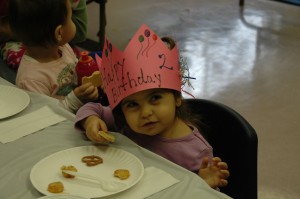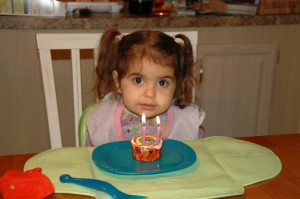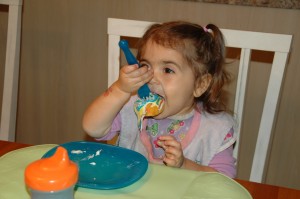 Oh, Sierra, where to begin?  She is such a perfect mix of amazingly sweet and frustratingly stubborn, walking that fine line between wanting to be a big girl and not wanting to grow up too fast.  At home, it seems like she never stops talking and singing, and she's constantly asking "Why?" about everything.  EVERYTHING.  Her favorite things to play with are little dolls (like the Little People figures), all things pretend play (food, make-up, and doctor's kits are on the top of her list), and dinosaurs (courtesy of Hannukah, she now has a big collection of dinosaur toys and she even sleeps with a plush stegosaurus and triceratops).  She loves Dora, Diego, Team Umizoomi, and the Fresh Beat Band.  Much like her big sister, she LOVES books. You could actually start many sentences describing Sierra with "much like her big sister" because as she always has, Sierra idolizes Anya and wants to be just like her.  She loves that she gets to drink out of a big girl cup JUST LIKE ANYA, climb into her booster all by herself JUST LIKE ANYA, and sleep in a big girl bed and wear big girl underwear JUST LIKE ANYA (more on that below!).  She wants to be able to walk up and down the stairs and get into her car seat by herself JUST LIKE ANYA.  Do you sense a theme here?
Sierra rocking out to the Fresh Beat Band:
There have been some big changes for our (getting) big(ger) girl recently.  We moved her out of her crib and to her big girl bed in her big girl room a few weeks before her birthday.  I was worried that the transition wasn't going to go well since the first day we were ready to try a nap in there, she changed her mind at the last minute and insisted she wanted to sleep in her crib, but then she happily napped in her bed for the next two days, declared she wanted to sleep in there at night, and that was that.  The first few days she wasn't thrilled when her bed time routine was over and it was time for Mommy or Daddy to leave, but since then it's been a dream.  She goes to sleep around 8 pm and generally sleeps until 7:30 am most mornings.  Remember that baby who was waking up 2-5 times a night to nurse?  Such a thing of the past.
In even bigger news, the weekend after her birthday, we decided to spend the weekend at home and attempt cold turkey potty training, and Sierra did a textbook perfect job.  The first morning she had a lot of accidents, then a little before nap time she told Lex she had to go to the bathroom and got there on time, and with just a few mishaps here and there since then, she's been wearing underwear whenever she's awake.  She wore a pull-up over her underwear when we left the house for the first few weeks, but now she wears just her Dora or Princess underwear out of the house, too.  We're so proud of her, and she is equally proud of herself.  She even stays dry through her naps or overnight some of the time, although we will likely continue to use diapers for sleeping for several more months.
Sierra had her well check in the middle of December.  She was 33 1/4 inches and 25 lbs, 7.5 oz.  Apparently, she's a shorty (I wonder who she got that from…), and she still has tiny feet – she just moved to a size 5 right around her birthday.  The doctor declared her very healthy and on target or ahead in all areas.  Taking Sierra to the doctor is a very different experience from taking Anya these days.  While Anya gets very nervous, cries, and sometimes is less than cooperative, Sierra almost thinks it is fun.  She doesn't even cry for shots.  Both the girls got their follow-up flu shots in November, and knowing how it was going to go, I had Sierra go first.  By the time she noticed what was happening, she was already getting her pink bandaid (and couldn't have been more excited about that).  Then it was Anya's turn… oh boy.  I think Sierra summed it up nicely when she told her hysterical sister, "Look at me, Anya, I not 'creem'-ing!" The only tears we get from Sierra at the doctor are if she's told she has to wait to eat her lollipop.
Much like her big sister (there it is again), I think Sierra is going to be a great big sister.  I wasn't sure if Sierra was truly going to understand what was going to happen at first, but she does seem to get it now.  She loves to cuddle with and kiss my belly, and talk and sing to her baby brother.  She tells me that he has to stay in there until March because he's still "gwowing" and that he's going to be so little when he comes out.  She says she will give him kisses and hold him on the couch, but she won't drop him.  When I put her to bed, she doesn't want to cuddle with me, she wants me to lift up my shirt so she can talk to baby brother, and she just loves if he "boops" her hand.  It will be interesting to see how she'll react when he actually gets here, though.  She's very possessive of her mommy.
Sierra is going to start preschool at the end of the month – just two mornings a week – so that she'll have some regular playtime with friends once the baby gets here and I can't take her to her two Mommy-and-Me classes anymore.  She has very mixed feelings about it.  Sometimes she tells me she's excited to go to big girl school JUST LIKE ANYA, and then other times she tells me that she only wants me to stay with her.  I think there will be some tears in the beginning, but I also think she's going to love it.  I can't believe she's already big enough to go to school, though.  She's still my baby, right?

Share on Facebook
Comments Off

on Sierra is 2, and then some